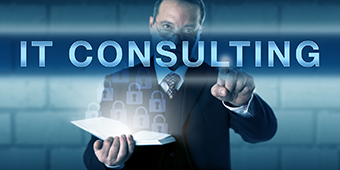 Providing Clarity & Jumpstarting Growth
Through our Business & IT Consulting we help businesses get going and keep on growing. You will benefit from our knowledge and experience as we assess your organization from top to bottom, identifying obstacles, and opportunities for growth. We will provide you with honest feedback and use our expertise to come up with strategies in areas such as: marketing, information technology, operations, finances, and business management.
As a qualified consultant for NEOnet's Small Business Technology Assessment Monitoring and Planning (STAMP) project, we provide STAMP assessments to approved businesses. This consists of reviewing all aspects of your operation and providing you with a detailed report, identifying your strengths and weaknesses and providing you with opportunities to improve how your business makes use of the latest technology to increase productivity and spur growth. Get in touch with us for more information.
Whether you need help with your business plan, need advice to help grow your business or would like a STAMP assessment, contact us to discuss how Jumpstart Media can help your business get going and keep on growing with our consulting services.